About us
Also called "Full-contact karate", is characterized by the competition style of striking directly the body of the opponent without gloves and shin guards.
The organization we belong to, the International Karate Organization Kyokushinkaikan, was founded by Sosai Mas Oayama(1923-1994).

The International Karate Organization and the Kyokushinkaikan follow the Karate way of building character and training the mind and body to contribute to society, based on Sosai Mas Oyama's Kyokushin spirit "Keep your head low (modesty), eyes high (ambition), mouth shut (serenity); base yourself on filial piety and benefit others."
We in Kyokushin Karate-Do do not promote or practice discrimination or prejudice based on ethnicity, race, nationality, politics, philosophy, religion, sex or age and recognize that everyone has the same rights. Our greatest pursuit is to reach for the goal of international friendship and world peace.

Our Osaka-Central Dojo is based in Tenma-bashi, Kita-ku, Osaka.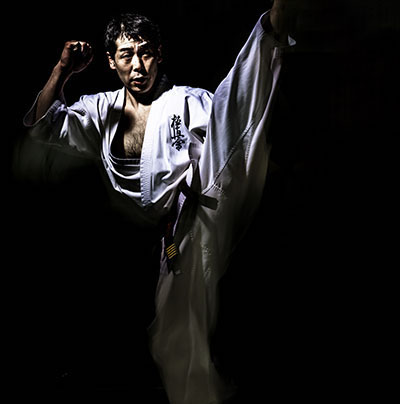 Teacher Koji Higa, 5th Dan
Top8 at the 3rd All-Japan Weight Category Karate Championships (Heavy Weight Class)
Karate Fifth-dan
His guidance is theoretical based on his many games' experiences.
We own dojo in two places. You can participate in the training at both of them at your convenience.

Class schedule
How to join
Please prepare the documents and expenses shown in the table below. In addition, tours and introductions to the experience are possible at any time, so I hope you will see the practice once and consider the introduction. If you have any questions, please do not hesitate to contact us via the inquiry form or 06-6939-0244.
Junior
(under 12 ages)
Adult
(Over 12 ages)
Note
1. 必要書類
(1)Credit card to be used for payment of the fee above
(2) Mug shot(Height:4cm x Width:3cm)
(3) E-mail address to be used for member's web site

2. Monthly fee
JPY 6,200
JPY 8,200
Includes direct debit fee of JPY 200
3. Initiation fee
JPY 0
JPY 0
4. Insurance premium
JPY 2,800
JPY 3,800
Insurance premium for one year.(It is an insurance update one year for the injury or accident of any chance during the game or the practice.)Insurance premium. See
5. Annual Fee
JPY 11,000
Menmbership fee for the headquarters. See
6. Gi (Karate uniform)
JPY 11,000〜26,000
Depending on size, embroidery with name, etc.
Classes
Note
 
Junior
6 to 12 years old
You can participate in the training at both of them at your convenience
Adult
Over 12 years old
Ladys
Over 12 years old wemen
Older
About 35 or more years old
Visit
It is possible at any time to come to see our dojo. Please come to our dojo directly at the practice time. We consider that looking directly into the practice is the best way to understand the Kyokushin-karate. So, if you are interested in Karate, please feel free to contact us.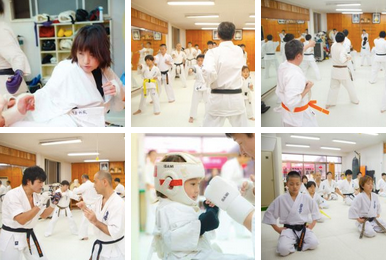 Trial Lesson
Targeting (men and women over the age of 12), you can experience for free an introduction to general practice from 20:00 on Mon. / Thu. / Sat. at the Tenmabashi dojo.
Please feel free to join us with T-shirt & sports shorts. You could have trial lessons.
If you are looking for some exercises or who are interested in learning Karate, please join us.
Please directly come to our dojo.